Steigenberger Airport Hotel Frankfurt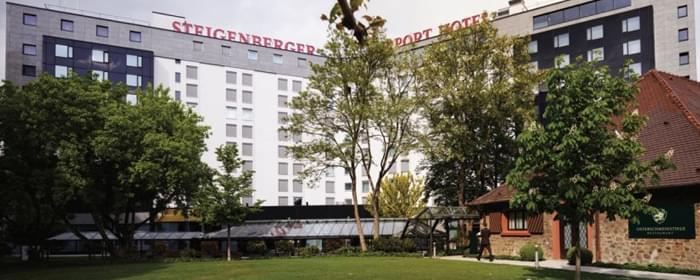 TPE Elastomers World Summit 2020 will take place at the Steigenberger Airport Hotel Frankfurt.
The Steigenberger Airport Hotel is the number one hotel in Frankfurt for business events. Within easy reach of the metropolis city center of Frankfurt, the largest city in Germany.

www.steigenberger.com/en/hotels/all-hotels/germany/frankfurt/steigenberger-airport-hotel-frankfurt

Address: Steigenberger Airport Hotel Frankfurt, Unterschweinstiege 16, 60549, Frankfurt am Main, Deutschland
Accommodation
Delegates are responsible for organising their own travel and accommodation.
All rooms and rates are subject to availability.
Warning!
**It has come to our attention that a number of accommodation service providers have contacted companies supporting Elastomers World Summit 2020 regarding hotel reservations. When delegates say they have already booked they are told that they need to finalise their booking by completing a form with credit card details. This generates a new booking and a 25% deposit is immediately charged to the card - this is non-refundable and any cancellation incurs a heavy penalty. These companies DO NOT represent Smithers and should NOT be given any credit card information.
Should you receive any correspondence from unauthorised organisations regarding accommodation arrangements for Elastomers World Summit 2020, or have any questions, please do not hesitate to contact your event manager at +44 (0)1372 802 052**